"Funnies"
It Could Only Happen in Swelleley

A bunch of us went to a wake last night in Wellesley. Afterwards we wanted to get a drink and catch up (it was friends from my last job). Wellesley is a dry town, except at hotels and restaurants. What gets me is that you can't buy a 6-pack at a liquor store, but you can drink one at a restaurant in Wellesley? Go figure.

We decided on Papa Razi and when we arrived the bar was empty - perfect! I noticed right away that there were no bar stools, but didn't really mind because we were all standing around chatting anyway. What really got me is that each time we ordered a drink (we leaned across the bar to give the bartender our drink order), the bartender would make our drink and then lean under the bar to give it to us. Not once did he pass our drinks across the bar. After this happened a few times we asked him why he was going through all of the trouble to give us our drinks on our side of the bar. He told us that Wellesley law states that he cannot pass drinks across the bar to patrons. To do that would constitute a real bar, and Wellesley prohibits those (and bar stools). How stupid is that? OK, let's all pretend that we're not standing at a bar, ordering drinks from the bartender. It's not really a bar because we're not sitting down and he isn't passing our drinks to us. PLEASE.

Nice job Wellesley. You keep on believing that you're a dry town. I won't tell anyone.
Nearly a Train Wreck

I sent this off to Andrea. Thought you might enjoy it.

Do you remember the "Hills" train station?? Right across from Abbott Road.

There is a big stone cliff behind the tracks. Maybe about 200 feet high.

Well, guess what's happening?

They are building (or attemping) to build 2 houses on the cliff. Really!!

What a great place to live.

They are off to a shakey start.
wbztv.com/local/excavator.accident.wellesley.2.1232133.html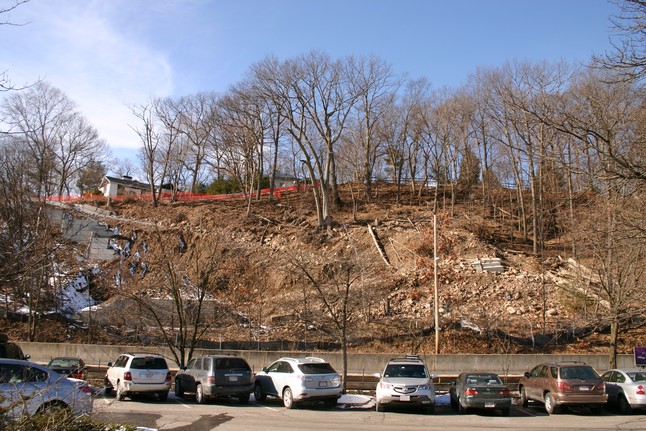 You're Fired!!!!